Mountain Safety
Laurel Mountain is committed to promoting slope safety. Share the slopes and be courteous to others. Be aware that there are elements of risk in snowsports that common sense and personal awareness can help reduce. Observe Your Responsibility Code and share it with others on the slopes for a great snowsports experience!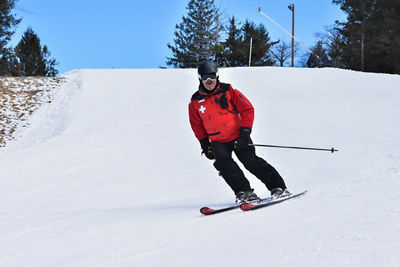 Your Responsibility Code
1. Always stay in control. You must be able to stop or avoid people or objects.
2. People ahead or downhill of you have the right-of-way. You must avoid them.
3. Stop only where you are visible from above and do not restrict traffic.
4. Look uphill and avoid others before starting downhill or entering a trail.
5. You must prevent runaway equipment.
6. Read and obey all signs, warnings, and hazard markings.
7. Keep off closed trails and out of closed areas.
8. You must know how and be able to load, ride and unload lifts safely. If you need assistance, ask the lift attendant.
9. Do not use lifts or terrain when impaired by alcohol or drugs.
10. If you are involved in a collision or incident, share your contact information with each other and a ski area employee.

Winter sports involve risk of serious injury or death. Your knowledge, decisions and actions contribute to your safety and that of others. If you need help understanding the Code, please ask any ski area employee.
Stay Safe at Laurel
Here are some things to keep in mind when you are out sharing the Mountain with our other guests.
SAFETY TIPS ON THE SLOPES
Take a lesson – trained instructors can teach you more quickly and safely then learning on your own or from a friend.
Share the slopes; enjoy a lifetime of skiing or snowboarding.
Be "predictable" when skiing: Don't suddenly swerve or stop.
Go with the flow; pass others cautiously.
Observe the areas posted as "Slow Zones" and slow down, regardless of your ability level.
Fast or reckless skiing and snowboarding can result in injury to you or others and could result in the loss of your ski and snowboard ticket or season pass.
Be courteous to others.
End the day on a positive note. Stop skiing or snowboarding with the first signs of fatigue.
Use caution when walking on steps, walkways and parking lots. Melting and freezing can cause surfaces to become slippery.
A helmet is an important safety consideration. Use your head. Educate yourself about helmet use.
Know the slope and trail ability designations.
Lift Safety
Be advised that you cannot board a lift unless you have sufficient physical dexterity, ability and knowledge to negotiate or to use such lift safely, or until you have asked for and received information sufficient to enable you to load, ride and unload the lift safely. You may not use a lift or any slope or trail when under the influence of drugs or alcohol.
Load and unload in designated areas.
If you are unsure about how to get on/off any of our lifts, consider taking a lesson or ask a Mountain Ambassador for assistance.
Your ski or snowboard ticket must be visible to the Mountain Ambassadors.
Avoid wearing loose clothing or backpacks that may catch on a lift you are riding.
If you fall while getting on/off the lift, keep your head down and low to the ground to reduce the risk of being struck by the chair.
If the lift stops, remain on the chairlift.
When unloading, stand on your skis or snowboard and glide away from the lift. Anticipate possible ice or a steep decline on the unloading ramp.
Move quickly away from the unloading area to provide adequate distance for those unloading behind you.
ADDITIONAL MOUNTAIN SAFETY
For the safety of our guests, the following items are prohibited from being used on any slope or trail at Laurel Mountain by anyone other than authorized personnel: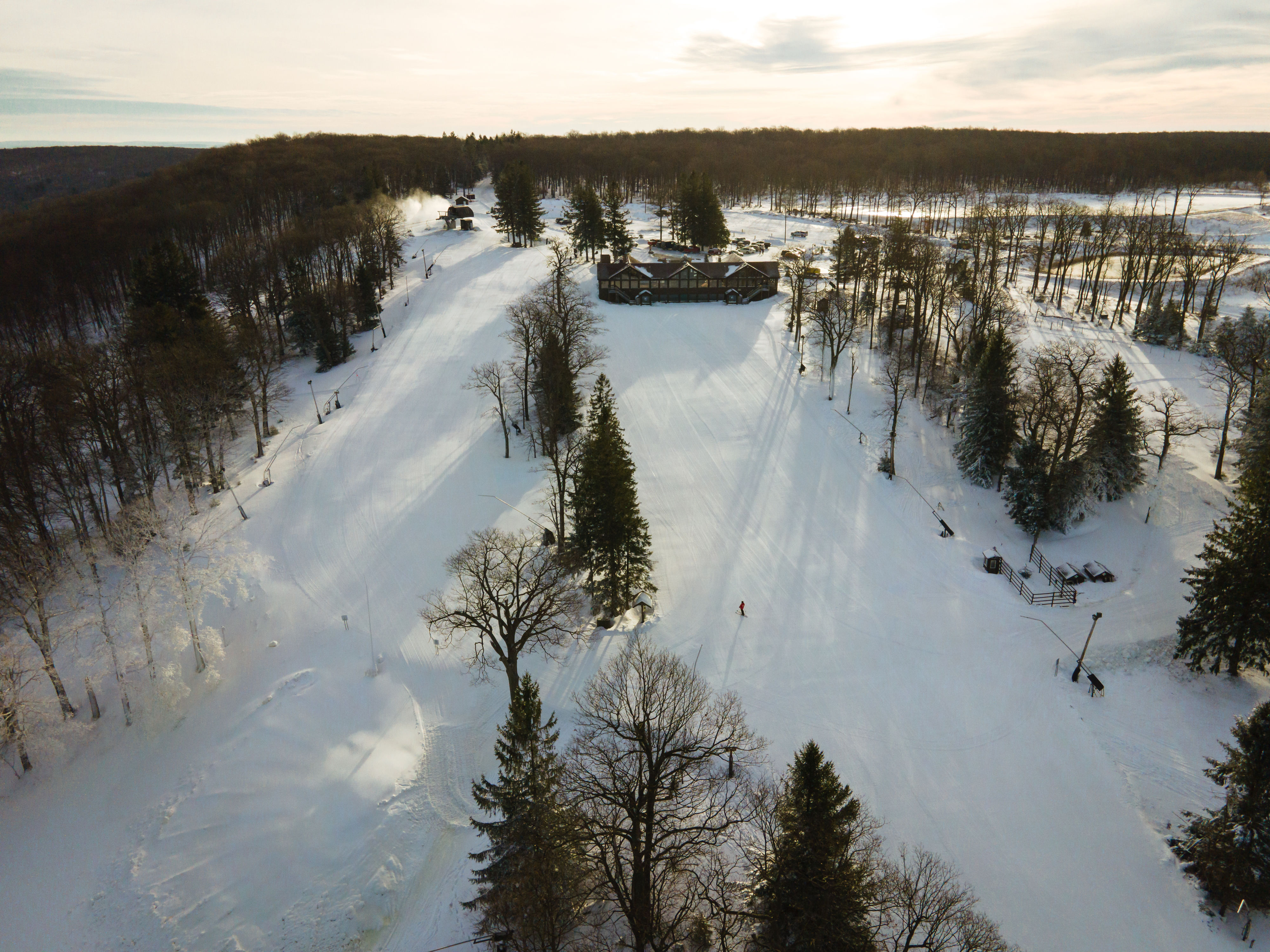 Drone Aircraft Policy
For the safety of all guests, recreational drone use by any guest or member of the public, is prohibited at Laurel Mountain and on all Seven Springs Mountain Resort properties. Commercial use is also prohibited without approved credentials from our Communications Manager and Resort Safety Manager.
Devices on Mountain
From November 1 through the end of Ski Season
Snow bikes, Fat bikes, ski bikes, mountain bikes, snow scooters, snow skates, sleds, toboggans, snowmobiles, ATV's, motor vehicles, cross country mountain biking and snowshoes.
For your safety and that of others, pets are not permitted on the slopes or on chairlifts.